Details for Scourie Hotel
Location:
Scourie
Sutherland
Scotland
IV27 4SX

Tel: +44 (0)1971 502396
Fax: +44 (0)1971 502423
More Info:
To connoisseurs of game fishing there is simply nothing to compare to the 25,000 acres of Loch, River and Hill Loch fishing held for the guests of Scourie Hotel. The Hotel has 36 fishing beats held exclusively for guests plus 3 beats on Loch Stack and Loch More for sea trout and salmon. Additional salmon fishing is taken on local salmon rivers.

The Scourie District is a favoured part of North West Sutherland, with a mild climate, quiet roads and the perfect environment if you wish to get away from it all. It is especially attractive as an anglers retreat, having many hundreds of lochs and lochans within a relatively compact area, most of which contain wild brown trout.

These are a few lochs that are avaialble:
Beat 1 - Scourie Lochs

This set of lochs lies closest to the hotel although this does not make it an easier walk than other beats. They are best fished earlier in the season as they tend to become weedy later.
Beat 17 - Mrs Little's

A set of lochs which lie on the plateau above Clasfearn. A good beat to fish if you do not want to walk far - try both arms of the main loch.

The hotel is able to offer guests access to the upper River Dionard via the Gualin estate. The fishing consists of six beats rotating on a daily basis. The river has Loch Dionard at its head which is counted as beat six. While the system relies on good water levels, the loch always contains fish and can be tackled with confidence in the good boat provided.

The tactics employed on the loch should be the same as Loch Stack and anglers often use a single handed (or short double handed) rod with similar flies on the river.

The Strath itself and the river are beautiful with all beats offering a mixture of slow and fast water. It would however be fair to say that it is a traditional West Coast Scottish spate river and gives its best when it has rained hard.

Salmon and good Sea Trout can be found throughout the system with good catches made in the right water conditions (See July 1998).

Until recently anglers had to walk to the beats, often taking ponies with provisions for an overnight stay. The walk, to Loch Dionard in particular, is long and hard. In order to make this more pleasant a bothy was available in which the overnight stay was made. It was often the case that anglers cursed their good fortune, if they had made a good catch of Salmon, when tackling the steep hill to Gualin Lodge.

Nowadays however, life is more leisurely with an Argocat available every day to take guests to the beats. Advice is also freely available both from hotel staff and those working on Gualin Estate.

Two rod beats are available - price on application. Please contact the hotel for more details if you wish to sample the fishing - the scenery and the quality of the fishing make it an experience you will not soon forget !
During the 60's and 70's, Loch Stack enjoyed an enviable reputation as one of the foremost Sea Trout fisheries in Scotland. At that time, fish over 10 lbs were not uncommon and numbers caught ran into many hundreds per season.

Unfortunately, as with most Scottish west coast Sea Trout fisheries, catches fell to an all time low in the early 90's. However, recent seasons suggest a marked increase in both the number and quality of fish caught. In addition, anglers have begun to fish more for Salmon which had previously been a largely untapped resource.

Improvements in the Sea Trout population may well represent the results of the enlightened catch and release policy now employed as well as the considerable efforts of the West Highland Sea Trout Fisheries Trust regarding the fishes' spawning areas.

Fishing on Loch Stack is from a drifting boat only, with a ghillie being a mandatory requirement. The loch enjoys large areas of submerged rocks and skerries which all harbour the Salmon and Trout as do burn mouths. These submerged areas extend around the edge of the loch as well as some unexpected shoals of productive shallow water in the middle. The ghillie is thus employed to guide the boat over these known lies safely and consistently no matter what the wind direction. Sea Trout tend to be more mobile but will still tend to congregate in certain areas which the ghillies know.

Traditional over-the-front fishing is the norm with wet flies, although dapping can also be productive given a good wind. A favourite length of rod is between 9 ½ and 12 feet with the longer rod enabling the fly to be "dibbled" effectively. Floating lines are generally employed although an Intermediate can be useful in calm or very sunny conditions.

Most traditional Scottish and Irish wet flies will work in sizes between 8 and 12. However, in recent years the Muddler Minnow has gained in popularity, particularly for Salmon which often appear behind the fly as retrieved. It is then down to the angler's nerve to keep on stripping the fly back in order to keep the fishes interest !

Teams of 3 flies are most common with the muddler fished as the point fly and a bushy bob fly employed on the top dropper to create a wake. It can be very exciting when a large Salmon lunges at it just before the angler is to recast.

Salmon can arrive in the loch up the River Laxford from as early as May with some of the larger fish being in this run. However, most fish arrive from the end of June onwards until the end of the season in October. Given water the supply of fresh fish can be topped up throughout this period.

The bulk of Salmon taken are in the 5 to 12 pound range. While these may not be as large as some fish found on the east coast rivers, a fish of 23 lbs was taken in 1997 so be prepared for a surprise ! Grisle also make up for their weight in terms of athlectic ability and the thrill of catching them on a light rod, fishing traditionally in these magnificent surroundings is second to none.

Last year (1998) was a good year for salmon with 89 fish being taken on the loch. In addition the fish were seen in large numbers and better catches may well have been made had it not been for the continual rain and high winds.

Sea Trout enter the loch during spates from mid-June, again with some of the larger fish being in the earlier runs. Fresh fish continue to arrive throughout the system until October.

Some anglers value Sea Trout more highly than Sea Trout for their undoubted fighting ability. A 3 pound fish can easily strip the angler to his backing following a savage take and they do not give up easily thereafter. As mentioned, all Sea Trout are released and there is a prize of a bottle of whiskey for anyone who can catch a fish tagged by the Fisheries Trust.

1998 was a reasonable year for Sea Trout and, given the improvements in quality and numbers mentioned, the five year average now stands at 215.

In addition to the Salmon and Sea Trout, Brown Trout and Char may also be caught. While angling for migratory fish is the main aim on Stack, the ability to catch resident fish as well means that the angler never knows what the next take may bring.

Indeed Brown Trout over the pound are reasonably common and in 1998 a fish over five pounds was taken on a traditional wet fly. A beautiful fish over nine pounds was also taken in recent times. Ferox are also known to be present in the loch and do appear in rougher weather. However, they are not often caught as they are not fished for specifically as trolling is not allowed.

Char, whilst small in size, more than make up for this in terms of flavour and are often requested for breakfast the day following their capture. However, the phrase "Char up - Salmon down" is used by many ghillies on the loch and, as a result, they may not always be welcomed aboard a Loch Stack boat !






Contact Name: Patrick Price
E-Mail: patrick@scourie-hotel.freeserve.co.uk
Web Site: http://www.scourie-hotel.co.uk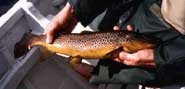 A Brown Trout of one the many Lochs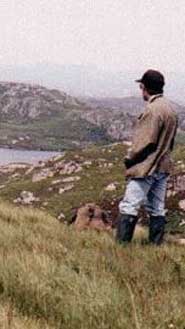 A View From The Freagairt Beat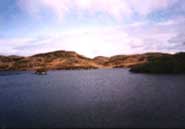 The Main Loch On The Mrs Little's Beat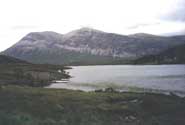 A View Past The Boathouse To Arkle